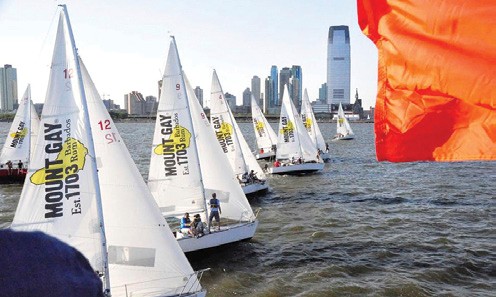 Manhattan Yacht Club in New York, NY is hosting the Mount Gay Rum Corporate Championship in New York Harbor this season. This will be a ladder event beginning with a series of eight Industry Regattas sailed in J/24s. The top two teams in each Industry Regatta will advance to the Corporate Finals, then the top two teams in the Finals will meet on America's Cup 12 Metres to match race for the Championship.
© myc.org
All sailors in the New York/New Jersey and Connecticut region are invited to enter their companies. The Notice of Race is now available. To request one, send an email detailing your name, company and industry to office@myc.org.
Manhattan Yacht Club has hosted corporate sailing events for 30 years. The Mount Gay Rum Corporate Championship will combine the sailing history of Mount Gay Rum with competition in front of the Manhattan skyline. Eight industries, such as shipping, finance, insurance and tech, will be selected to participate. There are eight berths for each Industry Regatta. The club is also in discussions with various industry groups to help develop specific Industry Regattas. For example, if you work with companies in the tech industry and wish to be considered as a potential sponsor of the Tech Industry Regatta, email office@myc.org.