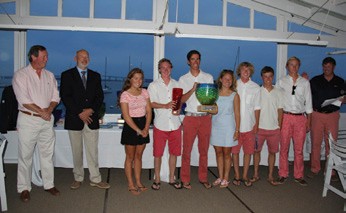 Kate Nota and her team aboard Alfred Van Liew's J/111 Odyssey (Middletown, RI) won the Ripple Effect Short Video Contest, which was part of the Ida Lewis Distance Race in August.
Alfred Van Liew's J/111 Odyssey team taking home the Arent H. Kits van Heyningen Trophy for winning the Youth Challenge at the 2014 Ida Lewis Distance Race. (From left) ILYC Commodore Gary Lash, Robert Kits van Heyningen, Sarah Kelleher, Johnny Gieseke, Trevor Davidson, Kate Nota, Jimmy Gieseke, Noah Kelleher and George Moss.   © ILDR/Robbie Benjamin
The contest, created by WindCheck Contributing Editor Joe Cooper, was introduced to the popular overnighter with the intention of engaging youth sailors (ages 14-20) by asking them to answer the question, "What do you like most about offshore/overnight sailing?" through a video essay or documentary no longer than five minutes in length.
Team Odyssey also won the event's separately scored Youth Challenge (to qualify, more than 40% of the crew had reached their 14th birthday but not turned 20 prior to August 15), finishing sixth in the 13-boat PHRF class. All classes sailed a 150-mile race that started and finished in Newport, RI. Hosted by Ida Lewis Yacht Club, the race celebrated its 10th edition in 2014 with a record 47-boat fleet.
Video YouTube Link:

https://www.youtube.com/watch?v=qdd8wnhP3so&feature=youtu.be