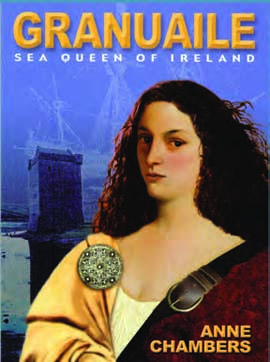 By Anne Chambers
Illustrations by Deirdre O'Neill
Published by The Collins Press 114 pages paperback
Review by Charlie Ayla Acker, age 10
Editor's note: My introduction to Grace O'Malley (1530 -1603) was an album by Tom Russell called The Man from God Knows Where. In this haunting "immigrant song cycle," Russell and several guest artists provide first-person accounts of hardship endured by Irish and Norwegian settlers in 19th Century America. Telling the story of Ambrose Larsen, Norwegian folk singer Sondre Bratland sings,
I married Bridget O'Malley, she is Grace O'Malley's kin
That Pirate Queen from the Isle of Clare who led 200 men
Invincible on Land and Sea was the O'Malley cry
Her spirit's in my children's blood, they'll prosper here or die
Anne Chambers is the author of Granuaile: Grace O'Malley – Ireland's Pirate Queen. Chambers, a best-selling biographer, subsequently wrote this book for readers ages 9 to 12.
This book is a true story of a woman named Grace O'Malley. Grace is a heroine in Ireland, where she is known by her Gaelic name, Granuaile. Grace was born almost 500 years ago. She was the only daughter of Dubhdara, a chieftain of the kingdom of Umhall, a remote coastal territory in County Mayo. Ireland is way different today – in Grace's time they didn't have a government. Each chieftain had an army and they fought battles to protect the kingdom and clan. Grace's father was also a pirate captain. His crew sailed boats called galleys and they took things from other boats.
Grace's parents didn't want her to become a pirate, but she loved the sea. When she was quite young, she became as good a sailor as her father. She was also more than a match for any man in a swordfight, and maybe the bravest girl pirate of all time. When she was older, she sailed to London to ask Queen Elizabeth to help her save her clan. This book is fun and filled with facts from Grace's birth to her death. You should read it if you like pirate tales. Thank you.