By Steven Ujifusa
Published by Simon & Schuster   427 pages   hardcover   $29.99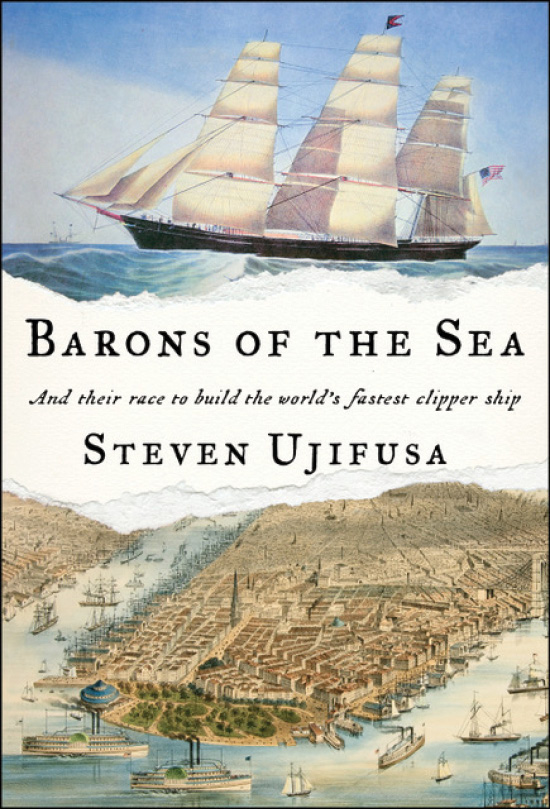 In the mid-nineteenth century, American clipper ships were the fastest boats on the water. These magnificent craft revolutionized global trade; their unprecedented speed allowing merchants to bring tea, silk, porcelain and other luxury goods from China to market twice as fast as rival ships from Great Britain. This commerce, with goods purchased with profits from the opium trade, fueled the United States' growth into an international maritime power, while merchants with names like Forbes, Delano and Low became some of the world's first millionaires.
Competition to build the biggest, fastest and most profitable ships was cutthroat, and vainglorious captains drove vessels and crews to the edge of disaster, and often beyond. Immensely powerful and lethally dangerous, big clippers like the legendary Flying Cloud needed 50 men to sail, and ships' masters frequently employed unscrupulous recruiters called "crimps." These thugs made deals with shady operators of New York City's waterfront bars and brothels, who drugged patrons by slipping drops of opium into drinks. Dumped unconscious onto the deck of an outbound ship, an unwitting conscript would often awaken at sea, penniless and pressed into service for a months-long voyage that he'd be lucky to survive. Comprehensively researched and masterfully written, Barons of the Sea is a compelling read.
Barons of the Sea is Steven Ujifusa's second book. His first, A Man and His Ship, the story of William Francis Gibbs, the shipbuilding titan who created the S.S. United States, was named one of the ten best nonfiction books of 2012 by The Wall Street Journal. A historian and lecturer, Ujifusa has appeared as a guest on CBS Sunday Morning and NPR and given presentations around the country. He spoke recently at American Yacht Club and Larchmont Yacht Club, and is presenting at New York Yacht Club this month. He lives in Philadelphia, PA with his wife and son. To learn more, visit stevenujifusa.com.